Bonsai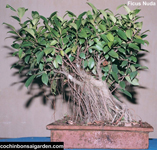 Bonsaiconsists of trees or bushes, and some types of perennial herbs found in fieldsor mountains, which are artistically planted in small pots or containers,occasionally in combination with rocks of many forms, so as to reproduce in miniature the lordly appearance of large aged trees or landscapes such as those found in nature. Hence they are quite different from ordinary potted plant whose primarypurpose is the enjoyment of their leaves and blossoms.
The art of bonsai originates with the Chinese, but the Japanese who were lovers of gardening have contributed much to the art form we now know. It may be considered the highest form of horticulture as a hobby. In fact bonsai of the best kind can be fully appreciated, much as paintings or sculptures, for their elegance as a plastic art. Even if such heights cannot be attained, the pleasure of growing bonsai is unique and its decorative purpose both in garden and indoors make it an art that yields lasting enjoyment.
Raising a Bonsai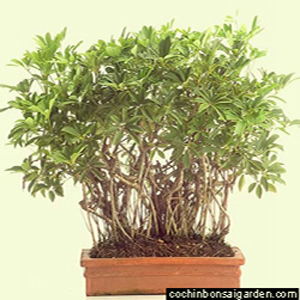 Bonsai requires from the maintainer utmost patience and care. The plant placed in a pot filled with soil should be such that water drains according to the plants' needs. The pots required for such a task are specially available with holes made at the sides and/or base to drain the left over water. Stagnant water in the pot not only inhibits the proper growth of most plants, it may even prove fatal to the plant. Over time the pot will become choked with roots rendering the plant unable to breathe. At this stage, the vital transplanting process takes place.
The transplanting of the plant from the old pot to the new one is the key to its proper maintenance and quite easily the most difficult part of maintaining a bonsai. The repotting involves pruning the plant roots (which are at the time overgrown) and trimming the branches, keeping in mind the overall harmony of the plant, and finally the plant is placed in fresh soil.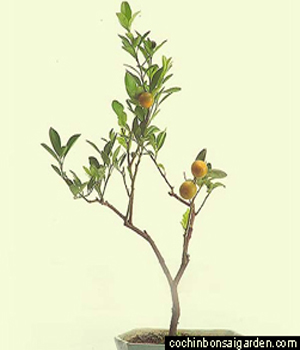 In two or three weeks time, the pruned roots sprout anew. The branches of the bonsai are rejuvenated and new branches appear. The bonsai grower, keeping in mind the shape of the tree, regularly prunes the nips of the tree buds.
Bonsai are living plants. To ensure adequate photosynthesis they are raised out of doors in broad sunlight. Watering, also, is essential. Accepted practice for watering bonsai is to water the plant when the soil dries out but the watering pattern is to be varied as per the seasons.
Since bonsai are living plants, they need nourishing fertilizer as well as drinking water. After repotting, they should be given small amounts of oil cake every month and bone manure every two or three weeks. Pesticides are used to help check the harmful insects that affect the growth of certain bonsai verities.